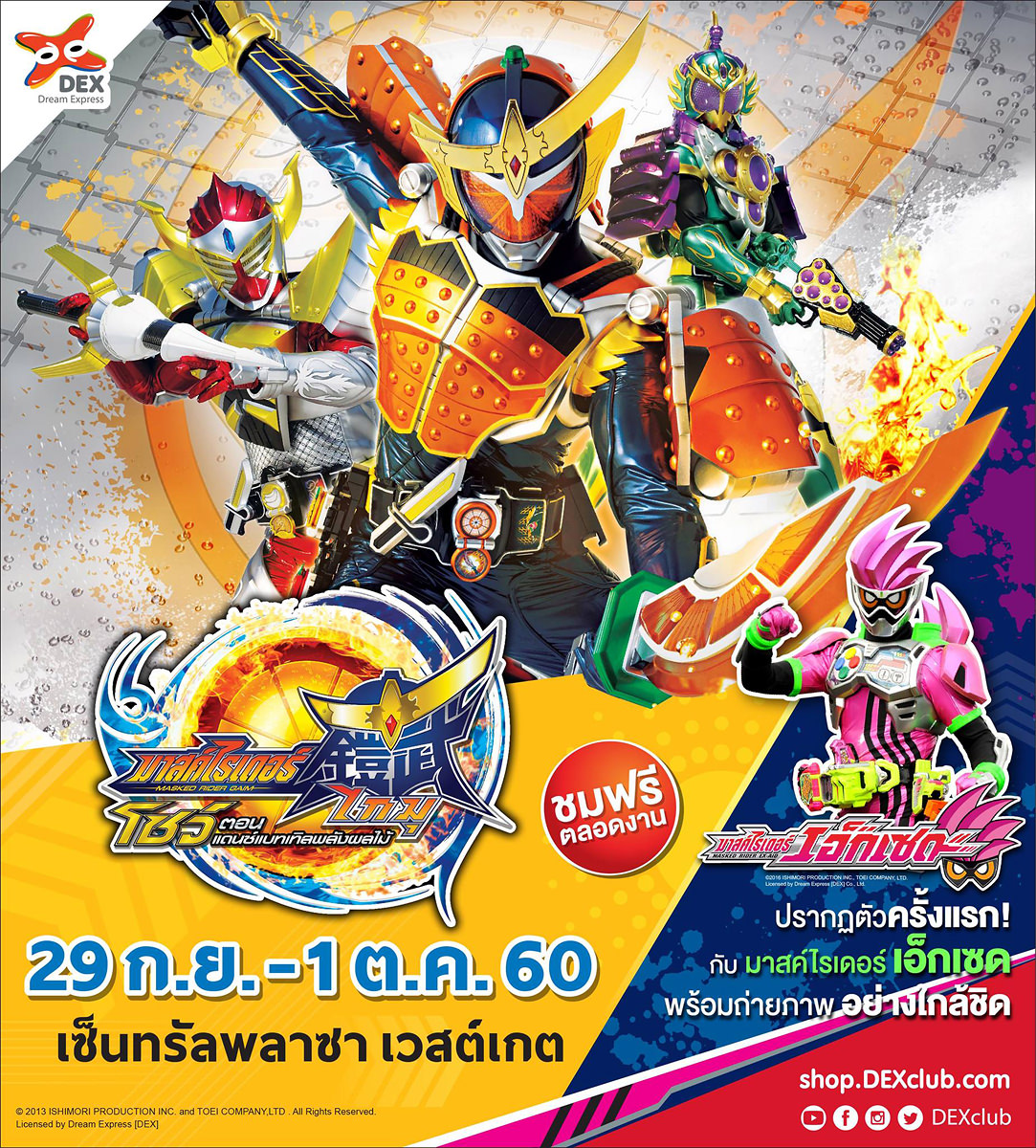 Company Yandex,,th,Limited special surprise for fans Kamen Rider not to be missed. With the presence of the first in Thailand.,,th [ดรีม เอกซ์เพรส] จำกัด จัดเซอร์ไพรส์สุดพิเศษที่แฟนๆมาสค์ไรเดอร์ไม่ควรพลาด พบกับการปรากฏตัวเป็นครั้งแรกในเมืองไทยของ "Kamen Rider x Merced.",,th,Dr. gamers intelligent direct flights from Japan to join the Meet.,,th คุณหมอ เกมเมอร์อัจฉริยะที่บินตรงจากประเทศญี่ปุ่น ร่วม Meet & Greet with Fans Activities photographed together closely.,th
"Kamen Rider x Sedna" is a character Kamen Rider vibrant. Groundbreaking character than the original Kamen Rider has also been hailed as the television series Kamen Rider great and perfect as possible. Whether it is the opus continuity The characters and relationships,th
Find Activities Meet,,th,Greet with "Kamen Rider x Zed" in time.,,th,A.,,th,"Kamen Rider shot aimed at the dance show, Battelle Energy fruits.",,th & Greet กับ "มาสค์ไรเดอร์เอ็กเซด" ได้ในเวลา 13:30 น., 16:00 น. And 18:30 น. ในงาน
"มาสค์ไรเดอร์ ไกมุ โชว์ ตอน แดนซ์แบทเทิลพลังผลไม้"
วันที่ 29 กันยายน – 1 ตุลาคม 2560 The Central Plaza West Gate Admission is free throughout the event.,,th,You can follow the series Kamen Rider. X Merced's channel,,th!
และสามารถติดตามซีรีย์มาสค์ไรเดอร์ เอ็กเซดได้ทางช่อง 23 Workpoint every Saturday at,th 6.30 น.